1500 Foodmakers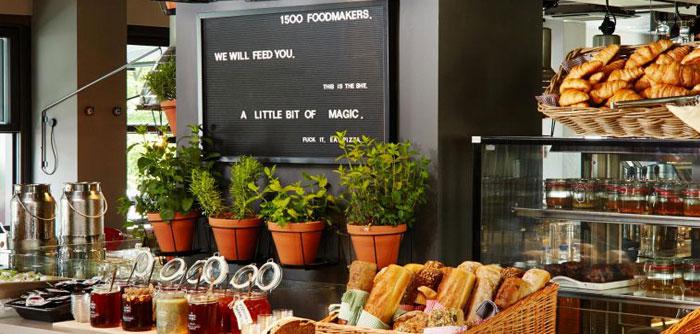 FEEDS YOU WITH A FUSION OF FOOD & DESIGN
One might need quite a few words to describe this place, the shortest would be: we just love it! It feeds well not only the stomach, but also the eyes and the brain, as they might "chew" on the design of this restaurant for quite a while. The space is big enough to accommodate not only the sufficient amount of people, but also a huge bar and lots of different design elements.
At the first sight it's a shabby chic, and then you notice a dash of vintage and a pinch of Scandinavian style, more on the Denmark side.  
But let's not forget about the food, 'cause that's the point. The menu is rather short, but offers an intriguing fusion of Italian cuisine with a Californian twist. What does it mean? - Fresh ingredients and partially light-weight, at our guess. It's one of the best places in town for pizza and incredible salads.
Anyway, spend here some time from your 25 hours (or 1500 min), if you stay at the  hotel above, and especially if not!     
Additional pleasures: terrace and burger garden in Weghuberpark on the side, if weather allows; and free WLAN.
---
Pizza – €8,5-12
Opening hours: Mon-Sun 12h00-00h00


Address: Lerchenfelder Strasse 1-3 | 1070 Wien
Website: http://www.25hours-hotels.com/wien/wohnraum/1500-foodmakers.php  
E-Mail: This email address is being protected from spambots. You need JavaScript enabled to view it.
Public transports: U2 Volkstheater
Credits. Phoho: 1500Foodmakers, text: Olga Kuchko