Skopik & Lohn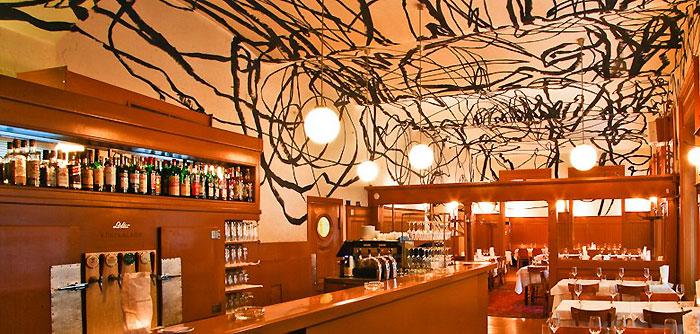 GATSBY COULD HAVE BEEN SEEN HERE
They call it art... black chaotic lines on the ceiling, created by local artist Otto Zitko. Under other circumstances and in other place it would be taken for a vandalism, but here in looks natural and authentic. 
Es ist ein typisches "white tablecloth" Restaurant, und dennoch nicht zu formal.Das Menu ist kurz und köstlich und vermischt Küchen verschiedenster Herkunft. Die Weinkarte besticht durch Vielfalt, die Cocktails durch ihre außergewöhnlich gute Zubereitung und die Musik durch ihre Durchgängigkeit bis in die 20er Jahre hinein. Manchmal fühlst du dich wie Jay Gatsby - und dann kommt ein französisches Chanson aus den 60ern und deine Begleitung ist plötzlich Jane Birkin… <
It's a "white tablecloth" restaurant, however not too formal, as white is just a colour, right? Quite short, but beautifully blended menu, comprising of Austrian, Italian and French cuisine. Skillfully mixed cocktails, charming fusion of music dated back to 1920th. At certain degree you feel like Jay Gatsby; then comes French chanson and 60s – and you are Jane Birkin…
Don't know, if that is an "Otto Zitko" effect, or is it a pure charm of this place. Come and see, what kind of illusion it brings for you.
Enjoyable (even without PhD in Arts) place, not on the cheap side, but who said that art is cheap?
---
Leopoldsgasse 17 | 1020 Wien
http://www.skopikundlohn.at | This email address is being protected from spambots. You need JavaScript enabled to view it.
Tue - Sat: 18h00 - 01h00  
U2 Taborstrasse | Tram 2 Taborstrasse