Känguruh Pub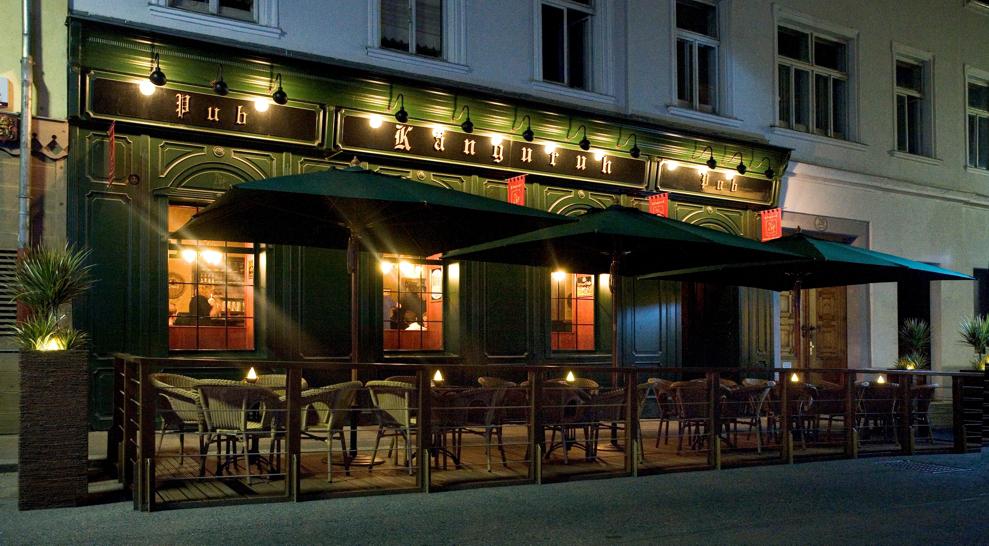 BIGGEST CHOICE OF BELGIAN BEERS
o you want to know the best kept secret of Belgian beer lovers or are you looking for a Belgian beer in Vienna? We've got an answer for both – pub Känguruh. This is the ONLY place in the whole country that has an extraordinary assortment of Belgian beers – over 150 sorts!
Es ist ein typisches "white tablecloth" Restaurant, und dennoch nicht zu formal.Das Menu ist kurz und köstlich und vermischt Küchen verschiedenster Herkunft. Die Weinkarte besticht durch Vielfalt, die Cocktails durch ihre außergewöhnlich gute Zubereitung und die Musik durch ihre Durchgängigkeit bis in die 20er Jahre hinein. Manchmal fühlst du dich wie Jay Gatsby - und dann kommt ein französisches Chanson aus den 60ern und deine Begleitung ist plötzlich Jane Birkin…
You don't want to miss it. For example, Cantillion Grand Cru Bruocsella – an aristocratic lambic, which has matured for three years in oakwood barrels. When kept for a long time, its bouquet gets the fine flavour of roasted bread. It's even recommended to be served in wine glasses. Did you know that beer might have a bouquet?
And then, of course, Kriek – the most famous fruit beer. A mix of old and young lambic, combined with real cherries. Floris Honey - soothing, honey flavoured white beer, made by Huyghe Brewery, founded in 1906 in Belgium.
Gruut Bruin - a special edition of Gruut brewery. Brown beer with a golden foam and persistent aftertaste coming from a mixture of nuts.
We can go on and on… Better see for yourself. Don't just drink it, savour it! But watch out: some might be quite strong.
---
Bürgerspitalgasse 20 | 1060 Wien
01/ 597 38 24 | www.känguruh-pub.at
Mon - Sat  18.00 - 02.00
U3 / U6 Westbahnhof | U3 Zieglergasse