Feinkoch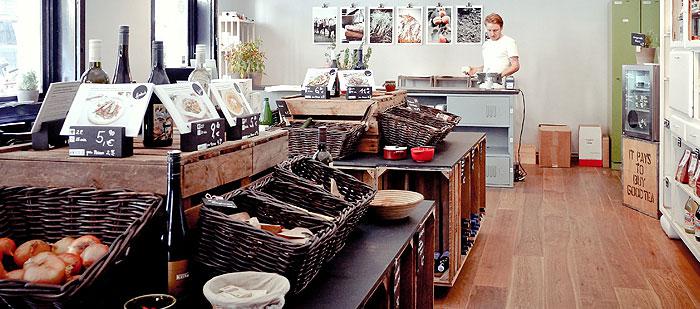 Cooking restaurant-quality dishes at home has never been easier!
Do you want to surprise your date? Then, there are 2 ways: you can always choose a romantic café from those that we recommend here on our site, or, if you are bold enough, cook for your date at home!
That's right, cook by y-o-u-r-s-e-l-f, furthermore – like a pro. No, you don't need to take cooking classes for the next 6 months or buy tons of cooking books. All you need is a basic knowledge of how it all works in the kitchen and the Feinkoch.
What is it exactly? It's a small grocery store that sells you your restaurant dinner for 2 at a much lower price than a restaurant does: the recipe, imagination and all those ingridients that are seen probably not often in your shopping list, but are essential for creating something out of ordinary.
So how does it work? There is nothing simple as these 3 steps: choose the dish in the shop (or online!) – put the recipe-card and ingridients in your shopping basket – cook at home. Hard to believe? But it's true, we tried it. All recipes have the cooking difficulty and time of preparation, so you can always stay on the safe side and still make an outstanding dinner.
Feinkoch puts its recipies together itself and in collaboration with famous restaurants. There are 3-4 new dishes per month and seasonal and daily fresh ingridients. Here are just a couple of examples of what you might cook: Thai green curry with jasmin rice, duck filet with miso sauce and sushi rice, udon noodle with broccoli, chilli and bonito flackes…
Simple. Fast. Delicious. Also all in one place and with a delivery by bike in the whole Vienna (within 1 hour inside the Gürtel, outside - within 2 hours)!
---
Theobaldgasse 14  | 1060 Wien
+43 (0)699 10045712
Shop: Mon – Fri von 11 – 20 Uhr | Sat 10 – 18 Uhr
Online-Shop: Mon – Fri 11 - 18 Uhr < Sat 10 - 18 Uhr
http://feinkoch.org/ | This email address is being protected from spambots. You need JavaScript enabled to view it.
Métro U2 Museumsquartier