Cupcakes Wien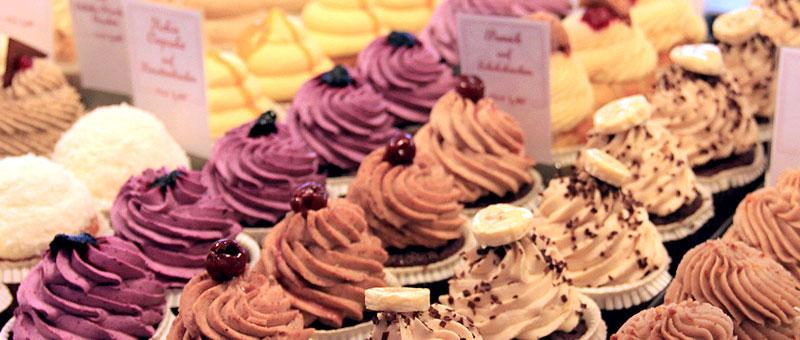 Beautifully creative confectionery: cupcakes and more
"Beauty is all around us...", - someone had said that. And if you are in Vienna, probably, you had this thought too. If you think further, there might be big things that we all notice and small beautiful things that are so comforting to discover.
Renate Gruber, who is first professional cakes designer in Vienna, knows everything about those small ones – in her case its cupcakes, cakes and cookies.
There are now two shops, where you can directly buy cupcakes. Or, you might want to stay there for a while and enjoy this lovely place and your dessert with a cup of coffee among its country style furniture, étagères and sheer glass bell jars. Also in the shop at Josefstädterstraße you can take a pick through the glass wall at the Backstube, where all this beauty is hand made. However, there is one disturbing thing here - you need to choose from about twenty sorts of cupcakes.
At the second shop alongside sweet ones you might also find for example cupcakes with fresh goat cheese, salmon or with beef and mashed potatoes.
And that's only the beginning: you can always order a splendid cake for your wedding or any other occasion, private or business. Or, if it grows on you, you can participate in a special pastry workshop (also available for kids from 6 y.o.).
Now you know where to find the small beauty!

Cupcakes – 3,9 €
Cupcake- and Cakes workshop - 75 €


---
Josefstädterstraße 17, 1080 Wien - +43(0)1/726 10 89
Mon - Fri: 10h00 - 19h30 | Sat: 10h00 - 18h00
U2 Rathaus | Tram 2 Station Rathaus
Albertgasse 17, 1080 Wien - +43(0)1/726 10 89
Mon - Fri: 10h00 - 19h30 | SSat, Sun & holidays: 10h00 - 18h00
CupCakes Wien im mumok (direkt IM museum moderner kunst), MuseumsQuartier | Museumsplatz 1, 1070 Wien
Mon: 14.00 - 19.00 Uhr |
Tue, Wed, Fri, Sat, Sun & holidays: 10h00 - 19h00
Thu: 10.00 - 21.00 Uhr
U2 Rathaus | U6 Josefstädterstrasse | Tram 2, 5, 33 Station Albergasse
This email address is being protected from spambots. You need JavaScript enabled to view it. - http://www.cupcakes-wien.at/
Images © Cupcakes Wien