Ruby Marie Hotel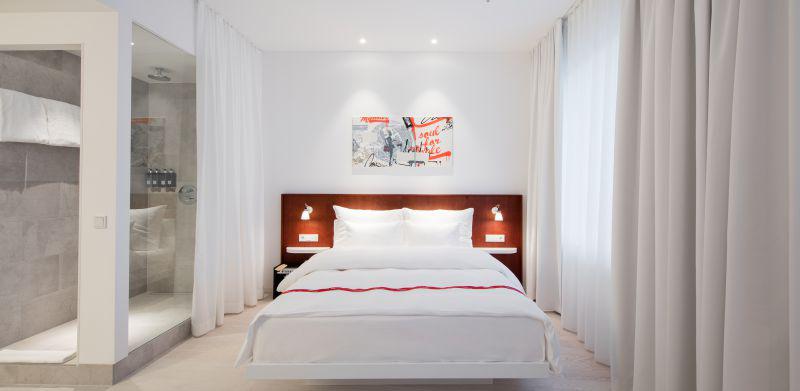 ART AND HISTORY
A more than one hundred years of Viennese history of the "Mariahilfer Zentralpalastes" later also known as the former department store "Stafa" is now carried on in a stylish way at the Hotel Ruby Marie. From the furnishings of the rooms to the Lean Luxury philosophy of the house, to art events and pop-up stores, a fusion of living, art and shopping in the entire hotel can be felt and enjoyed.
The Hotel Ruby Marie combines a top location with a decoration with a lot of attention to detail, which begins with the fact that the historical reliefs of the artist Anton Hanak are visible again and that they are integrated into the new façade.
The hotel looks as a starting point for the creative scene that prevails in the 7th district and not only uses its own event space for vernissages, pop-up stores and live sessions with local and international musicians, but also offers an original Marshall amp in every room , Which can be played free of charge - the accompanying guitar you can borrow at the reception, if you have not taken with you. Bicycles are available free of charge for exploring Vienna.
The bar, including the terrace - the hotel's Urban Jungle is a very special mention. The diversity, including chill-out areas make the bar the ideal location after a sightseeing, shopping or work day. And if you want to stay in the room, then you have a Tablet PC available.
---
Adress: Mariahilfer Straße 120 | 1070 Wien
Web: www.marie.ruby-hotels.com/ |
Kontakt: www.marie.ruby-hotels.com/system/contact
Rooms: 186
Features: Luxus-Bett, WLAN, Rainshower-Dusche, HD Flatscreen TV, Safe, Klimaanlage, Sound System
Reachybly by: U3 Westbahnhof | U3 Zieglergasse | Strassenbahn 18 Westbahnhof
---
Photos © Ruby Marie Hotel - www.marie.ruby-hotels.com/