Rosa Linde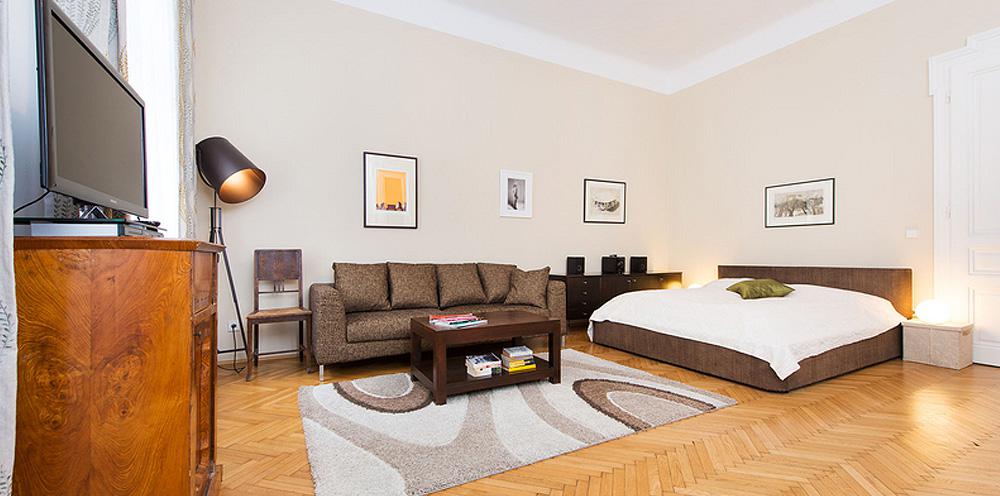 IN THE MIDDLE OF VIENNA
In the middle of Vienna's young and at the same time traditional 7th district lie the rooms of the Rosalinde, within walking distance of some of the best museums in the city, one of the largest shopping streets in Vienna, to countless bars and restaurants. Your future hosts, Karl and Erich, have set themselves the goal of providing the Rosalind with modern comforts in a personal and historical atmosphere.
The characteristic Viennese old building from the end of the 19th century was renovated sensitively. The high rooms, double wing doors and old oak parquet floors have been preserved, the bathrooms and air conditioning (in two rooms) have been newly built and architecturally adapted. Additional amenities include satellite / cable TV and Wi-Fi.
The rooms in the Rosalinde are named after three famous Viennese scientists: Kurt Gödel (the apartment), Sigmund Freud (the larger room with anteroom and bathroom) and Ludwig Wittgenstein (with glass box bath in modern design). They recall the striving combination of tradition and modernity.
Guests at the Rosalinde appreciate the quality of the rooms as well as the excellent location and the attractive price.
In Vienna's modern museum quarter, one not only admires masterpieces of Klimt and Schiele, but also for dance, theater and musical events. Young and old enjoy the mix of cafes, new and traditional restaurants, music and culture. In the restaurant district "Spittelberg", just a few meters away, you can meet in a bar, beer cellar, student or gourmet restaurant. Just a few minutes away you walk to Vienna's boulevard of the Ringstraße with its theaters, museums, the town hall or the parliament - and to Vienna's inner city, the traditional first district.
---
Adress: Lindengasse 43 | 1070 Wien
Telephone: +43 720 88 29 03 
Web: www.rosalinde.at
Mail: This email address is being protected from spambots. You need JavaScript enabled to view it.
Rooms: 3
Facilities: SAT-TV, Klimaanlage, WLAN
REACHABLE BY : U3 Neubaugasse | Straßenbahn 49 Neubaugasse, Bus 13A Siebensterngasse
Photos ©  Pension rosa Linde http://www.rosalinde.at