Magdas Hotel

AN OPEN MINDED HOTEL LIKE NO OTHER
You will soon notice - something else is different here. The HOTEL is freer, cosmopolitan, courageous. In short: casual, as one would say in Vienna. Here people from all over the world come together as guests, employees or friends. Enjoy your stay with us and experience Vienna with your eyes open. Free to magdas: stay open-minded.
From kitchen chefs to emigrants - in magdas HOTEL people from 14 nations work with different life stories. Each one of them makes this place so unique. Once you've been here, you'll know what we mean by that. And you also have a lot to tell.
For people with a curse background, it is still difficult to find work in Austria. Initial integration of the German language, the resentment of many employers, and the fact that the receipt of a positive asylum decision (which often can take months or even years) can lead to the taking up of work complicates integration. We are convinced that the people who are traveling abroad will be able to strengthen the hotel business as they bring in a lot of skills, talents, languages and cultural backgrounds and thus create a special positioning on the hotel market.
As a social business, magdas HOTEL aims to solve social economic problems with entrepreneurial means. The hotel works like any other company. However, it is not about maximizing profit but about maximizing openness and humanity.
Those who want to discover the world should be able to rest well. There are over 88 rooms in upcycling design waiting for you. So no 08/15 hotel room with shoe box charm. For every room in the house magdas has its own character.
Magdas likes art
Art and magdas HOTEL belong together. After all, the Academy of Fine Arts is our closest neighbor - so cooperation with students is a thing of the past. With different work in the rooms and an artist-in-residence program, the creativity of the young artists can be felt and seen everywhere.
The first picture below is from the Belgian artist Stefanie de Vos and is located in room 403. All the works of art are in the catalog Side by Side.
The heart of magdas HOTEL is the bar with its cozy lounge area - the magdas SALON.
Here you will find everything you need in a hotel bar: readings, exhibitions, concerts, film clips, discussion sessions, after-work clubbing and the "magdas Social Dinner".
The magdas SALON is home to world-class travelers, city visitors, Viennese, neighbors and the local creative scene, and it is probably the only place in the world where you can order Tequila on Pashto, solicit your friends in Somali and pay for the round in Albanian.
---
Address: Laufbergergasse 12 | 1020 Wien
Telephone: +43 (0) 1 720 02 88
Web: http://www.magdas-hotel.at
E-Mail: This email address is being protected from spambots. You need JavaScript enabled to view it.
U1 Praterstern
---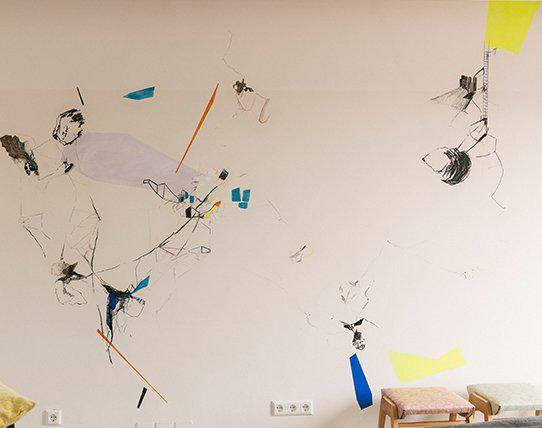 Photos ©  magdas hotel - http://www.magdas-hotel.at