Boutiquehotel Stadthalle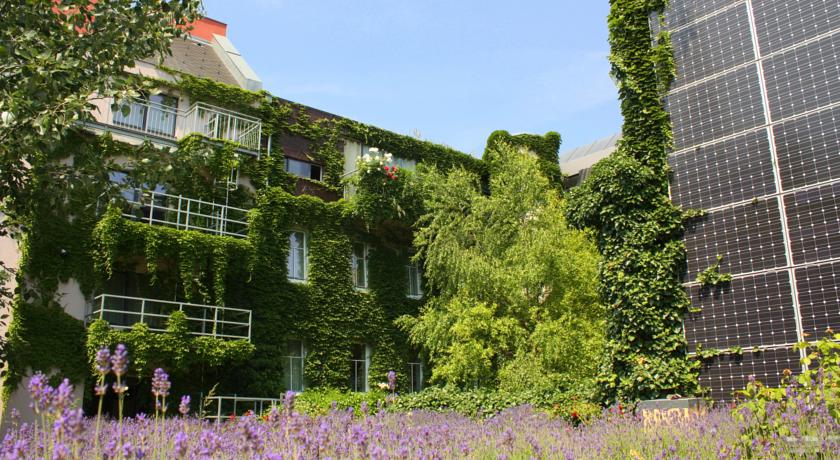 SAVE ERNERGY IN A GREAT ATMOSPHERE
The Boutiquehotel Stadthalle is going a whole new way - especially in the direction of environmental protection. The vision was to build a hotel that does not consume (external) electricity. Thus, the first zero-energy hotel, probably the world's first, was built in the middle of the Gründerzeit district of the 15th district of Vienna. The electricity surplus, which is fed into the grid during the day, is retrieved in the evening. In other words, the hotel should generate enough energy to cover its own consumption.
The list of technologies used is long. Well water is extracted from the depths of the earth and used to control the rooms. In the summer, the 16 degrees Celsius cold water is pumped through the ceiling in specially embedded pipes, while the same installations are used for heating in the winter - concrete core activation is called in the specialist yargon. 150 square meters of sun collectors deliver at the same time, at least as long as the sun shines, the majority of the electricity required.
Not to be forgotten, you can also live in this hotel - and this is excellent. In 79 rooms, 41 of which are located in the area of the century's turn-of-the-century building, you can enjoy the best comforts that offer everything a modern city hotel expects.
Almost everything, because there is no mini bar and also the air conditioning is missing, as these are among the biggest electricity eaters of a hotel. The only requirement to the guest: He must be willing to play along. "When I check in at this hotel and take a walk in the deepest winter, while the window pane is wide open, the ecological operation is certainly not beneficial", says the hotel's planner, Trimmel, "valuable energy in the form of warmth And it takes quite a long time to heat up the room to a comfortable temperature. " For this reason, the architect says, it is important to familiarize the customers with the most important features of the building.
Conclusion: The hotel offers guests not only a great boutique hotel in the capital, but also a lot of space for learning about environmental protection!
---
Address: Hackengasse 20 | 1150 Wien
Telephone: +43 (01) 9824272
Web: http://www.hotelstadthalle.at
E-Mail: This email address is being protected from spambots. You need JavaScript enabled to view it.
U6 Stadthalle
---
Photos © Boutiquehotel Stadthalle